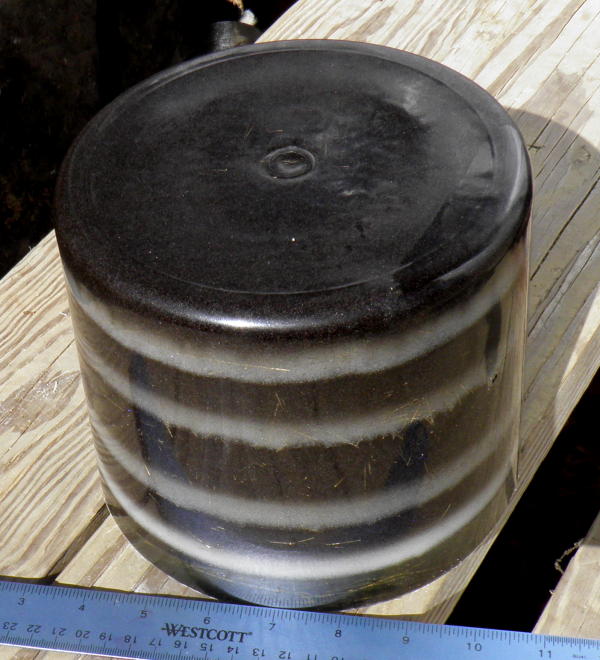 A jailer should ideally have a lot of demon-finding and demon-stomping power. The jailer pgms themselves don't have this power but rely on it. Even forks, nails, screws, rocks, etc. can be programmed as jailers, and do work to some extent (we routinely pgm nails and screws in people's walls) because they also have additional pgms. But ideally, serious orgone makes a good backup for the jailer pgms.
The construction of this unit is very different from what i usually make. It is very dense with ingredients.
Long story: back in 2004, Clyde gave me a bag with a couple pounds of fine garnet powder. I think this was genuine garnet. I still have a bit of it left somewhere.
I didn't use much of it until years later, when i made a big unit that had a fair bit of the powder in it, and a special program to go with the garnet-gonite. I was pretty impressed, so i ordered a 50# sack of garnet powder sold for sand-blasting. Cost me some bucks with shipping.
But then the strontium-barium pgm came along, which was similar to but better than that garnet pgm, and did not require garnet. So i never even opened the box, and it has been sitting there all these years until a few days ago when i was guided to make something.
Now, the outside of the box has a label saying 55 GRIT GARNET BLASTING POWDER, but the label on the bag says Dupont and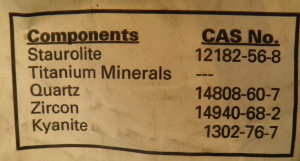 And the contents are a dark grey-brown color.
But guess what, this stuff is interchangeable with real garnet for the purposes of this new pgm.
I was guided to use whopping amounts of the powder as well as to stuff as much brass in (which gets the Brass Pgm which is synergistic with the garnet pgm). I don't have a lot of brass shavings, but i do have a bunch of fine brass needles, so i used that.
The only other ingredients in this unit are epoxy and a magnetron from a discarded MW oven. I was not "allowed" to add tape, coils, stones, etc. because they would only have detracted. I think the garnet pgm is incompatible with metallized tape.
The unit is very heavy, as the magnetron itself is quite heavy, plus it has all those solids stuffed in.
I was able to make thick pours because the additives acted as a heat sink. The lighter bands are because the heavy powder sank.
The pgm will go into plain resin but is probably pretty lame by itself like that. Likewise it will go into just the "garnet" and resin without the brass, but i suspect that is not worth doing either. It will also go into garnet stones, but might not be the best pgm for them if used by themselves. This pgm has a narrow niche and i don't plan to mention it on my site.
Later i will post a pic of 2 TBs i made with the powder and brass but nothing else in the epoxy.
Is this "better" than other types of jailers? No, but it is different. And it is desirable to hit the enemy with as many different kinds of programmed weapons as possible, as they all act a bit differently.
At this time the magnetron alone has 6K+ jailer pgms plus 30+ other pgms.