Ok,
Normal capacitor has two plates.
This capacitor has four plates. Why? In the theory of scalar waves, we must put two fields against each other, and this can be done with only four plates. Of course we need AC current. That coil was making scalar waves from magnetics field, but this capatior makes scalar waves from electric field.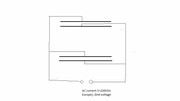 This picture shows sheme for four plate capacitor.
You can't buy such capacitor, you can only make it yourself. Of course you have to be careful.
For dielectric i use ceramic material. And then the whole thing put in orgonite. The secund thing i have to do yet.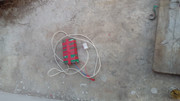 This picture shows the actual fpc. It has to be done to orgonite yet.